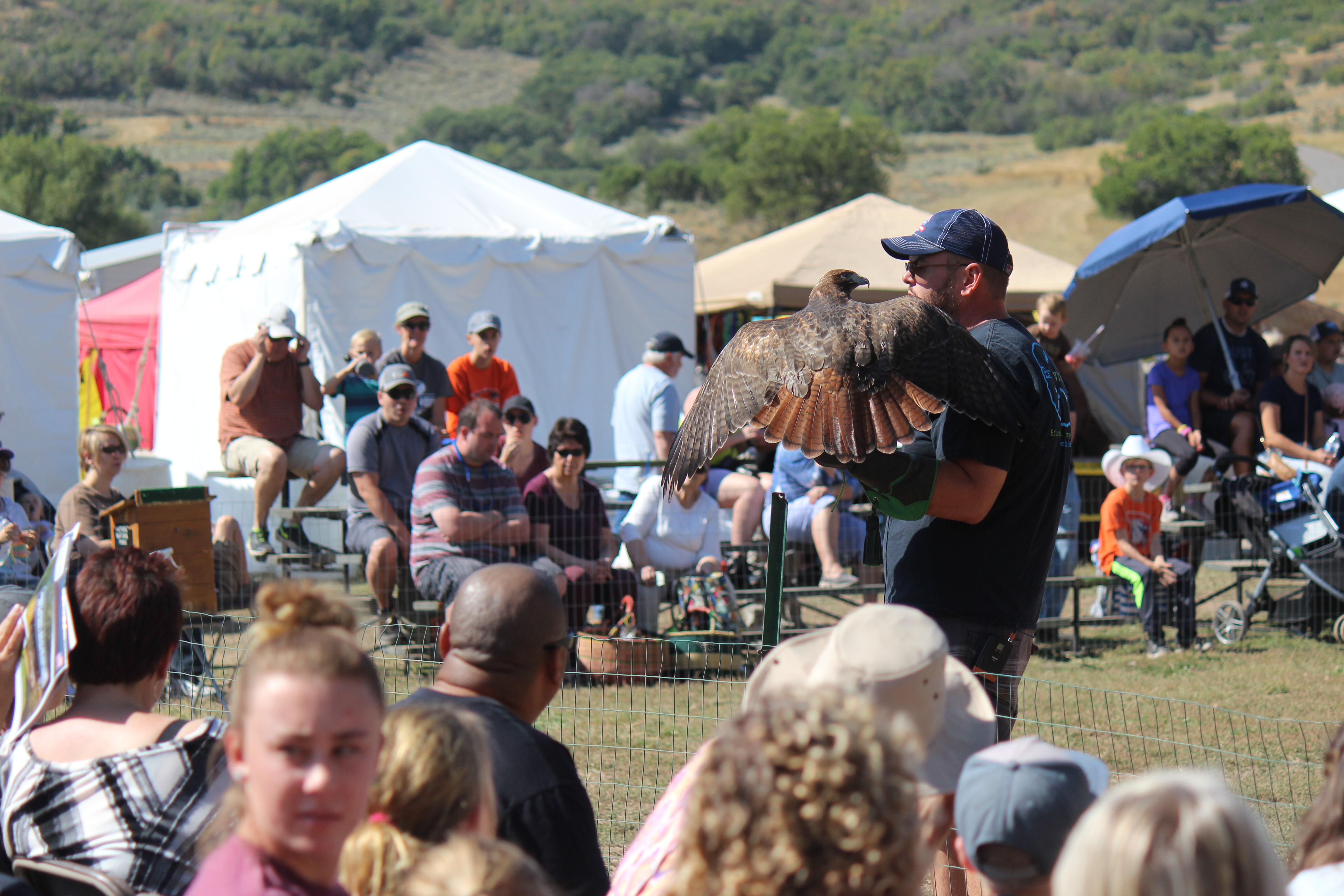 Earthwings brings those remarkable birds to Soldier Hollow so you and your family can have a truly up close and personal experience with hawks, owls, and falcons.
From competitions to Agility Dog shows, spectators have multiple opportunities to celebrate man's best friend.
Enjoy a cool beverge while you watch Sheepdog competition.
We make this promise about our Food Court: Great food that far exceeds expectations. We've selected some of Utah's best vendors to ensure that every meal served at the Soldier Hollow Classic is both unique and absolutely delicious.
CLICK HERE FOR A FULL FESTIVAL ACTIVITY SCHEDULE
Activities and Shows
Soda Pop The Clown Face Painting
Salt Lake Scots Pipe Band
Navajo Sheep Project Information Booth
Herding Haven Information and Demonstrations
Versa Dog Sports Demonstrations
Highland Games
Veterinarian Kim Henneman
Earth Wings Bird Shows and Information Booth
 Food Vendors
8th Street Catering – Lamb and Chicken Gyros & Gyro Dinners, Lamb Burgers
Bohemian Brewery
Zermatt Catering
Dippin' Dots – Flash Frozen Ice Cream Beads
Gavin Concessions – Beef Hamburgers, Beef Cheeseburgers, Funnel Cakes. Breakfast possible.
Kona Ice – Shaved Ice – 10 crafted flavors, product is vitamin-fortified, Smart Snack approved, and sweetened with pure cane sugar and all-natural stevia leaf extract.
Korean BBQ – Korean Rice Bowls
Miss Kitty's – BBQ Smoked Pork Sandwich and Pork Spare Rib Plates
Mountain West Kettle Korn – Kettle Korn
Smoothie Island – Blended Fruit Smoothies
Tasty Hawaiian BBQ – Hawaiian Style Huli-Huli Chicken/Plate, Kalua Pork/Plate, Mango & Watermelon Otai Drink. Breakfast – Sausage, Eggs & Rice
Retail and Artisan Vendors
Soldier Hollow Classic Retail Booth
G&N Magnetic Hematite Bracelets
Glenis & Harry Bert Jewelry
Huggin Pawz Animal Goods
Peaks Dog Toys
Northland Professional Outdoor Clothing
Rock-N-Lazy-F Hats
Ryan Glasmann Art
Santa Fe Jewelry
BusamKam WOLA Foundation Baskets
Event Sponsors
Toyota
American Border Collie Association
Heber Valley Chamber
Powder River
America First Credit Union
Bohemian Brewery
Ivory Homes
Zermatt Utah Resort & Spa
Team Soldier Hollow
Diamond Rental
Power Equipment Rental