Soldier Hollow Sheepdog Classic Festival
Enjoy a multitude of animal demonstrations and activities including the Earthwings Raptor Show, Wild Wonders Animal Show, and daily bagpipe performances by the Salt Lake Scots! Top artisans from throughout the west will also offer a wide array of handmade products. Demonstrations will include weaving, spinning, sheepdog training and dog care. Our Navajo Rug Show, sponsored by Adopt-a-Native Elder, features finely woven traditional Navajo textiles and demonstrations by Navajo artisans.  See the daily schedules for days and times of individual performances.
Vendors interested in participating in the Soldier Hollow Classic should reach out to Judy Klautt at jklautt@uolf.org.
Utah State Highland Games Championships
Like the Sheepdog Championships, Highland Games have their roots hundreds of years ago in the Celtic culture of old Scotland. They feature nine historic athletic competitions that will take place at Soldier Hollow on Sunday and Monday with the iconic Caber Toss concluding the Championship on the main field immediately after the sheepdog Grand Championship concludes (while the course is being set for the Shootout which will follow the Caber Toss). On Sunday, Utah's top Highland Game athletes will compete in Stone Put, Weight For Distance, and Hammer Throw Competitions. Then on Monday, the athletes will return for Weight Over Bar, Sheef Toss, and finally the Caber Toss which will determine the 2019 Highland Games Utah State Champion.
Wild Wonders Exotic Animal Show
Wild Wonders is a state and federally licensed facility that houses wild animals that cannot be sent back to the wild. Run by Sarah and Spencer Jacobsen, the facility houses more than 20 wild and exotic animals, which are frequently taken to schools to educate children. Wild Wonders will be featured at Soldier Hollow on Saturday through Monday.  Animals may include everything from a baby skunk, to a hedgehog, to a yellow bellied marmot.  Sarah promises a fun and educational 45 minute program which will run three times per day Saturday, Sunday and Monday. In between shows, Sarah and Nephi will have many animals out in their interactive center allowing kids the chance to get up close and personal with their favorite animals.
Earthwings Bird Show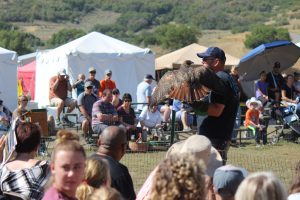 Earthwings brings those remarkable birds to Soldier Hollow so you and your family can have a truly up close and personal experience with hawks, owls, and falcons.
While educating the public about their wild birds, nature and conservation is one of our goals, Earthwings also wants to motivate people to get involved in saving these amazing creature's natural habitats. Earthwings will be performing on Friday, Saturday Sunday and Monday. Check the schedule on this site (posted in late July) for daily times. In between shows, Eric will be talking to the public and giving people the opportunity to meet and hold these beautiful raptors.
Arts and Crafts
Fiber arts, pottery, jewelry and leather craft are just some of the great arts and crafts available at the Soldier Hollow Classic. We feature a broad selection of products that are handmade, agricultural or that relate to the world of dogs. You'll find elegant hand knit sweaters, traditional handmade pottery and jewelry crafted by top silversmiths.
We are also proud to sponsor our Adopt a Native Elder tent which features authentic Navajo Rugs and demonstrations by Navajo Weavers.  Over the last 400 years, the Navajo People created one of the great shepherding cultures of the world in the American Southwest.  This show features a huge selection of authentic Navajo rugs, textiles and jewelry and will also feature Navajo weaving demonstrations. 100% of all proceeds from this show go directly to the weavers who created them.
International Food Court
Our Food Court is sponsored by the Utah's Lamb &  Wool Producers and we make this promise: Great Food that far exceeds expectations. We've selected some of Utah's best vendors to ensure that every meal served at the Soldier Hollow Classic is both unique and absolutely delicious.
You'll choose from dozens of great vendors including Daily Scoop, Green Urban Lunch Box, Spud on Stick, Smoothie Island, Korean Bowl, Miss Kitty's Outlaw Bar-B-Q, Rosemary's Navajo Tacos, 8th Street Catering, Utah Corn Roasters, Radd Lemon Shakers, Mountain West Kettle Corn, Chile Verde, Lola's Street Kitchen, Zermatt and more! While we feature American Lamb, you'll also find great beef, poultry and vegetarian entrees.