Soldier Hollow Sheepdog Classic Festival
Enjoy a multitude of animal demonstrations and daily bagpipe performances by the Salt Lake Scots! Top artisans from throughout the west will also offer a wide array of handmade products. Demonstrations will include weaving, spinning, sheepdog training and dog care. Our Navajo Rug Show, sponsored by Adopt-a-Native Elder, features finely woven traditional Navajo textiles and demonstrations by Navajo artisans.  See the daily schedules for days and times of individual performances.
Dog Shows
Utah State Highland Games Championships
Like the Sheepdog Championships, Highland Games have their roots hundreds of years ago in the Celtic culture of old Scotland. They feature nine historic athletic competitions that will take place at Soldier Hollow on Sunday and Monday with the iconic Caber Toss concluding the Championship on the main field immediately after the sheepdog Grand Championship concludes (while the course is being set for the Shootout which will follow the Caber Toss). On Sunday, Utah's top Highland Game athletes will compete in Stone Put, Weight For Distance, and Hammer Throw Competitions. Then on Monday, the athletes will return for Weight Over Bar, Sheef Toss, and finally the Caber Toss which will determine the 2019 Highland Games Utah State Champion.
Arts and Crafts
Art, pottery, jewelry and leather craft are just some of the great arts and crafts available at the Soldier Hollow Classic. We feature a broad selection of products that are handmade, agricultural or that relate to the world of dogs. You'll find elegant hand knit sweaters, traditional handmade pottery and jewelry crafted by top silversmiths.
Vendors will include African Rural Crafts LLC, Bag Ladies of Sequim, WA, C&S Western Wear, Champion Home Exteriors, ERM Gems, G&S Magnetic, Grey Eagle Silver, Hammered by Noon, Harry Bert Jewelry, Healthy Hemp Pet Company, Herding Haven, pawTree's Healthy Pets, Pet Wants, Rural Africa Crafts, Ryan Glasmann Art, SantaFe Jewelry, Thomas W. Mitchell Photography, and more.
We are also proud to sponsor our Adopt a Native Elder tent which features authentic Navajo Rugs and demonstrations by Navajo Weavers.  Over the last 400 years, the Navajo People created one of the great shepherding cultures of the world in the American Southwest.  This show features a huge selection of authentic Navajo rugs, textiles and jewelry and will also feature Navajo weaving demonstrations. 100% of all proceeds from this show go directly to the weavers who created them.
International Food Court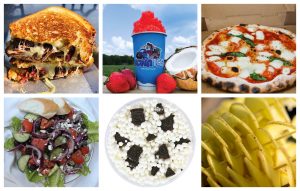 We make this promise about our Food Court: Great food that far exceeds expectations. We've selected some of Utah's best vendors to ensure that every meal served at the Soldier Hollow Classic is both unique and absolutely delicious.
You'll choose from dozens of great vendors including Chile Verde, Dippin' Dots, Forge Pizzeria, Gavin Concessions, Kona Ice, Korean Rice Bowl, Lola's Street Kitchen, Miss Kitty's Outlaw BBQ, Mountain West Kettle Korn, Park City Coffee Roasters, Rosemary's Navajo Tacos, Smoothie Island, Spud on Stick, Utah Corn Roasters and Lemonade, and more! While we feature American Lamb, you'll also find great beef, poultry and vegetarian entrees.